For release Feb. 15, 2004
Contact: Melody Ward Leslie, mleslie@uoregon.edu
Source: Jennifer J. Freyd, Psychology Professor
Photo of Jennifer Freyd
MEDIA-FUELED bias distorts validity of recovered memories
People who say they've recently recovered long buried memories of sex abuse are less likely to be believed than those who've always been able to recall events, says Jennifer Freyd, professor of psychology. Freyd will present her findings and comment on errors often made in news coverage of research on memory for childhood abuse on Sunday, Feb. 15, 2004, at the American Association for the Advancement of Science (AAAS) meeting.
EUGENE, Ore. There's a big discrepancy between what science shows about recovered memories of childhood sexual abuse and what's being shown in the media, according to University of Oregon memory researcher Jennifer Freyd.
Most people find recovered memories less believable than events someone has always remembered, despite research showing that whether a memory is true or not has no documented relationship to whether it was always remembered or only recently remembered, Freyd says.
Uncovering this bias may help remove the daunting challenges faced by abuse victims when they seek treatment and attempt to bring their abusers to justice, she says.
Freyd will present her findings about "Misleading and Confusing Media Portrayals of Memory Research" as part of a panel titled "The Science of Child Abuse" at 9 a.m. Sunday, Feb. 15, during the annual meeting of the American Association for the Advancement of Science (AAAS) in Seattle. (See list of presenters, below.)
"This bias suggests widespread ignorance and confusion about memory for abuse," Freyd says. "Our duty -- scientists and the media alike -- is to provide accurate information so the focus returns to the devastating effects of child abuse."
Freyd and Lisa DeMarni Cromer, a UO doctoral student, found this bias in an experiment with more than 300 undergraduate participants. These students rated the believability of vignettes describing abuse disclosures. One version of the disclosure described a recovered memory such as this: "A college friend, David, confides in you that he was forced by his father to have sex with him when he was nine years old. David tells you that he has only recently remembered this aspect of his childhood, and also that he has never told anyone until now."
Other participants read a vignette where a few key words were altered in the second sentence: "David tells you that he has always remembered this aspect of his childhood, but he has never told anyone until now."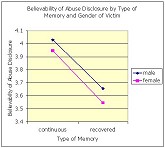 Believability of the disclosure was rated from 0 (not at all believable) to 5 (very believable). If the memory was continuous, the average rating was about 4.0, but if it was recovered it was about 3.6. This difference is highly statistically significant and reveals a distinct bias, Freyd says. (See graph.)
"No one has produced any data that I'm aware of to show that recovered memories are more likely to be false than memories people say they've always been able to recall," Freyd says. "Any memory could be false. Your belief shouldn't depend on whether there was a period of forgetting."
If that's the case, why do people tend to disbelieve recovered memories?
Freyd says both imprecise terminology in some scientific publications and misleading news reports are largely to blame. She points out that journalists often mistakenly use the term "false memory." Similarly, journalists reporting on high profile sex abuse cases such as the Catholic Church scandals often don't reveal that victims whose cases were corroborated had the experience of recovering memories.
Freyd also notes that the media sometimes sensationalize findings in ways that harm victims of child abuse. Last year at AAAS meeting it was reported that some participants could be led to believe they had seen Bugs Bunny in a Disneyland photo. This widely reported finding almost always was referred to in the context of so-called "false memories." By implying a connection between misremembering a cartoon character, comparing this situation to memories of child abuse and using the term "false memories," the issues become distorted.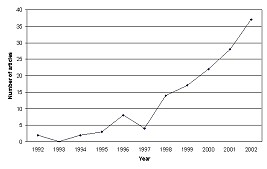 In a second study conducted that has been accepted pending revisions for an upcoming issue of Ethics & Behavior, Freyd's research team found that an increasing number of scientific articles have used the phrase "false memory" to refer to subtle errors in word memory. (See graph.) Use of the same term, Freyd argues, causes people to assume that such errors are directly relevant to memories of abuse.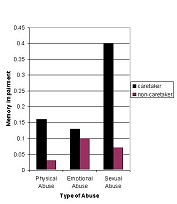 "What we have found," says Freyd, "is that forgetting sexual or physical abuse is more likely when the perpetrator is a caregiver, such as a parent, than when the perpetrator is not a caregiver, such as a family friend or a stranger." (See table.)
The bottom line is that people abused by family members are even less likely to be believed if their testimony is based on recovered memories. "Let's not hurt victims even more by doubting them just because they unconsciously dealt with trauma by burying painful and disturbing memories for a period of time. We need to address the real issues," Freyd says. She recommends journalists and scientists guard against sensationalizing research or taking it out of context.
Freyd is internationally known for her work in memory research. She heads the UO's Freyd Dynamics Lab and is the author of Betrayal Trauma: The Logic of Forgetting Child Abuse (Harvard University Press, 1996), hailed as a landmark work introducing the now commonly accepted theory of "betrayal trauma" to explain why people often suppress memories of child abuse, particularly at the hands of family members and caregivers.
Editor's Note: Freyd's findings are reinforced by a discovery announced in the Jan. 9, 2004 issue of Science. Researchers at the University of Oregon and Stanford University have located a mechanism in the human brain that blocks unwanted memories. This is the first time anyone has shown a neurobiological basis for memory repression.
---
Presenters for the AAAS "Science of Child Abuse" symposium on Feb. 15 include:
Jennifer Freyd, organizer and moderator, psychology professor, University of Oregon
"Misleading and Confusing Media Portrayals of Memory Research"

Kathy Pezdek, co-organizer, psychology professor, Claremont Graduate University
"False Memory Research: A Study in Problematic Research Paradigms"

Ross E. Cheit, associate professor of political science and public policy, Brown University
"Confidentiality and Problems Verifying Claims about Children's Testimony"

Frank W. Putnam, professor of pediatrics and child psychiatry, Children's Hospital Medical Center
"The Costs and Consequences of Child Abuse"

Thomas D. Lyon, professor, USC Law School
"Stranger Danger and the False Denial of Sexual Abuse"