Compelled Disclosure:
The Problem with "Required Reporting" of Sexual Violence on College Campuses
A Compilation of Articles and Resources
Professor Emerit of Psychology, University of Oregon
Founder and President, Center for Institutional Courage
Adjunct Professor in the Department of Psychiatry and Behavioral Sciences at Stanford Med School
Faculty Fellow at the Clayman Institute for Gender Research at Stanford
Faculty Affiliate of the Women's Leadership Innovation Lab at Stanford University
Introductory Statement
Trauma robs the victim of a sense of power and control over her own life; therefore, the guiding principle of recovery is to restore power and control to the survivor. She must be the author and arbiter of her own recovery.  . . .  Many benevolent and well‐intentioned attempts to assist the survivor founder because this fundamental principle of empowerment is not observed. No intervention that takes power away from the survivor can possibly foster her recovery, no matter how much it appears to be in her immediate best interest. (Herman, 2002)
In the years between 2011 and the present time, many American universities rolled out policies compelling faculty report to college officials student disclosures of sexual violence. I became concerned about these compelled disclosure policies (often known as "mandatory reporting" or "required reporting" policies) from a research and policy perspective. I first published my concerns about compelled disclosure in a 2016 commentary in which I identified serious problems with compelled disclosure and I offered the core of an alternative policy that subsequently informed the University of Oregon's reporting policy adopted in 2017. If you read just one thing about this topic, I hope it is this:
The Problem with "Required Reporting" Rules for Sexual Violence on Campus by Jennifer Freyd, Huffington Post Blog, 25 April 2016.
Updates
October 2020 Updates:
A new national faculty advocacy group formed to explore alternatives to mandatory reporting has formed: Academic Alliance for Survivor Choice in Reporting Policies
At the National Academy of Science's 2nd Public Summit of the Action Collaborative on Preventing Sexual Harassment in Higher Education there was a panel discussion about mandatory reporting, Finding Common Cause Centering Survivors in Reporting Policies. Video recordings of the presentations and slides are available for the public.
February/March 2019 Update:
The American Psychologist has published in the February/March 2019 issue a comment and our response to our 2018 article "Compelled disclosure of college sexual assault."

Comment: Newins, A. R. (2019). Ethical considerations of compelled disclosure of sexual assault among college students: Comment on Holland, Cortina, and Freyd (2018). American Psychologist, 74(2), 248-249. http://dx.doi.org/10.1037/amp0000363

Our Response: Holland, K. J., Cortina, L. M., & Freyd, J. J. (2019). Advocating alternatives to mandatory reporting of college sexual assault: Reply to Newins (2018). American Psychologist, 74(2), 250-251. http://dx.doi.org/10.1037/amp0000415
April 2018 Update:
The American Psychologist, the official peer-reviewed scholarly journal of the American Psychological Association, published in April 2018 our analysis of mandatory reporting policies.

Holland, K. J., Cortina, L. M., & Freyd, J. J. (2018). Compelled disclosure of college sexual assault. American Psychologist. 73(3), 256-268. http://dx.doi.org/10.1037/amp0000186 ; Press Release

(This paper was selected for the Distinguished Publication Award, Association for Women in Psychology, 2019)
May 2018 Update: Professor Merle Weiner from the University of Oregon School of Law has written an important legal analysis:
Merle H. Weiner, A Principled and Legal Approach to Title IX Reporting, 85 Tenn. L. Rev. 71 (2017). Available on Westlaw. The published version is also on SSRN: https://papers.ssrn.com/sol3/papers.cfm?abstract_id=3133270
May 2017 Update:
On 12 April 2017 there was again unanimous support by the University of Oregon Senate for our new proposed reporting policy that does NOT make most employees mandatory reporters but instead obligates them to provide information, support the students and follow the wishes of the survivor/student. (Here is more about the task force that proposed the policy.) On 23 May, the university president signed this policy effective 15 September 2017. We also hope this policy can serve as a model for other campuses and organizations -- one in which we shift the focus from required reporting to required supporting.
News Articles
National News
UO Campus Specific News
Oregon's unique Title IX reporting policy gives autonomy to students by Caitlin Schmidt, Arizona Daily Star, 8 March 2019. Also part of a Title Wave Podcast.
UO creates new "Responsible Reporting" policy to support survivors of gender-based discrimination and harassment on campus by Hanna Kanik, The Daily Emerald, 30 October 2017.
University of Oregon Updates Campus Gender Discrmination and Sexual Assault Policy on Think Out Loud, OPB, 19 September 2017. .
Melissa L. Barnes (Feminist & Gender Studies and Psychology '15) Helps Author New Discrimination Policy at the University of Oregon, Colorado College News Room, 28 May 2017
UO Adopts New "Student-Directed" Reporting Policy For Sexual Assault by Rachel McDonald, KLCC, 23 May 2017.
Senate praises new sexual assault reporting policy reporting policy by Emma Henderson, Emerald, 13 April 2017.

Proposed UO Policy May Help Sexual Assault Victims by Kelly Kenoyer, Eugene Weekly, 1 December 2016.
Sexual assault reporting policy, 'sanctuary' campus resolution meet UO Senate approval by Will Campbell, Emerald, 16 November 2016
Workgroup on sexual assault reporting to hold student forum by Emily Olson, Emerald, 23 September 2016.
UO Senate workgroup to narrow approach to responsible employee sexual assault reporting by Emily Olson, Emerald, 2 September 2016.
UO Senate work group meets to lay out groundwork for permanent mandatory reporting policy by Tran Nguyen, Emerald, 26 August 2016
The debate around mandatory reporting is not over by Max Thornberry, Emerald, 21 July 2016
UO Senate temporarily votes down mandatory reporting policy, but debate will continue by Max Thornberry, Emerald, 18 May 2016
Survivor Empowerment Alliance discusses first mandatory reporting policies by Branden Andersen, Emerald, 15 April 2012.
Video: Student-Directed Sexual Violence Reporting Policy Approved, 12 April 2017, University of Oregon Senate (16 mins) (also see Video of University of Oregon Senate, 18 May 2016 when mandatory reporting was rejected.)
Statements from Organizations Opposing Wide-Brush Mandatory Reporting Requirements
National & International Organizations
Campus Specific Organizations
Statements Supporting Wide-Brush Mandatory Reporting Requirements
Faculty Commentary
Reforming Title IX: Evidence of the Harm of Universal Mandated Reporting for Marginalized Survivors of Campus Sexual Violence by Jennifer Gómez, 7 June 2021
Don't Throw Professors In Jail For Respecting Student Confidentiality by Evan Gertsmann, Forbes, 28 May 2019.
Dec 13: Jill Christman on Writing Sexual Trauma Under Title IX by Jill Christman, Essay Daily, 13 December 2018
Forcing sexual harassment reporting on campus can have a chilling effect by Angela Lawson, The Hill, 4 December 2018
Trouble with Title IX. Mandatory reporting, Title IX profiteers and administrators, and academic governance by Sine Anahita, AAUP, May-June 2017.
Required Supporting Instead of Required Reporting: Responding Well to Disclosures of Campus Sexual Violence by Jennifer Freyd, Huffington Post Blog, 1 December 2016.
The Problem with "Required Reporting" Rules for Sexual Violence on Campus by Jennifer Freyd, Huffington Post Blog, 25 April 2016.
Ohio University faculty members want mandatory reporter rule reevaluated by Miriam Shadis and Patricia Stokes (and many signers), The Post, 22 October 2015
The Chilling Effect of Mandatory Reporting of Sexual Assault by Michele Moody-Adams, The Chronicle of Higher Education, 11 March 2015
Trust me…no never mind by Denice Labertew, California Coalition Against Sexual Assault Blog, 5 February 2015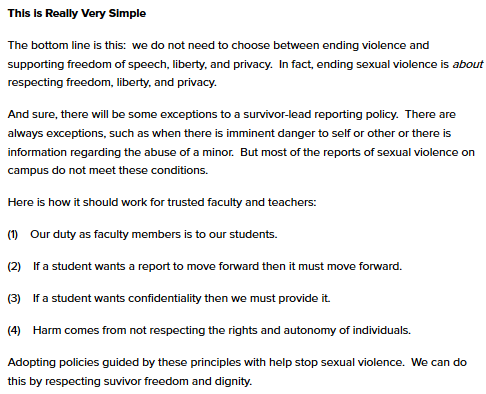 Section from commentary by Freyd, 2016

Student and Survivor Voices
Scholarly and Scientific Research
Some Universities with Policies that may NOT Require all Faculty to be Required Reporters
Note: This list was mostly compiled in 2015 and 2016 and may be out of date.
See Also