Compelled Disclosure -- The Problem with "Required Reporting" of Sexual Violence on College Campuses
A Compilation of Articles and Resources
Compiled by Jennifer J Freyd
Note: I have an opinion on this issue -- I'm opposed to compelled disclosure (sometimes called required reporting; reporting without the consent of the adult survivor) on ethical grounds: it is a form of compelled betrayal. Betrayal causes harm. We lack evidence that compelled disclosure is effective and we have indication it is not safe. Compelled disclosure is a violation of basic human rights to privacy and autonomy; removing autonomy is particularly harmful to survivors (as we know from social science research); and requiring compelled disclosure is fundamentally counter to academic freedom, learning, and equal access to education (and is thus a civil rights violation). I'm also opposed on practical grounds: compelled disclosure will chill reporting on campus and, in the meantime, there are good approaches available to encouraging voluntary -- and institutionally accountable -- reporting. (Accountability is very important: currently we may have a kind of Reporting Theatre in which policies compel reporting but then many reports are actually buried.) We can and we must have liberation on all fronts: liberation from sexual violence and liberation from policies (no matter how well-intentioned) that deny adult survivors autonomy.

: April 2018 Update:
This article has been published in final form by the American Psychologist:
Holland, K. J., Cortina, L. M., & Freyd, J. J. (2018). Compelled Disclosure of College Sexual Assault. American Psychologist. 73(3), 256-268. http://dx.doi.org/10.1037/amp0000186

Abstract
Sexual assault is a widespread problem on college campuses. In response, many institutions are developing policies mandating that certain employees report any student disclosure of sexual assault to university officials (and, in some cases, to police), with or without the survivor's consent. These policies, conceptualized here as compelled disclosure, have been prompted and shaped by federal law and guidance, including Title IX and The Clery Act. Proponents of compelled disclosure assert that it will increase reports—enabling universities to investigate and remedy more cases of sexual assault—and will benefit sexual assault survivors, university employees, and the institution. However, many questions remain unanswered. How broad (or narrowly tailored) are contemporary compelled disclosure mandates in higher education? Do any empirical data support assumptions about the benefits of these policies? Are there alternative approaches that should be considered, to provide rapid and appropriate responses to sexual violence while minimizing harm to students? The current article begins with an overview of federal law and guidance around compelled disclosure. Next, a content analysis of a stratified random sample of 150 university policies provides evidence that the great majority require most, if not all, employees to report student sexual assault disclosures. A review of the literature then suggests that these policies have been implemented despite limited evidence to support assumptions regarding their benefits and effectiveness. In fact, some findings suggest negative consequences for survivors, employees, and institutions. The article concludes with a call for survivor-centered reforms in institutional policies and practices surrounding sexual assault.
May 2018 Update: Professor Merle Weiner from the University of Oregon School of Law has written an important legal analysis: Merle H. Weiner, A Principled and Legal Approach to Title IX Reporting, 85 Tenn. L. Rev. 71 (2017). Available on Westlaw. The published version is also on SSRN: https://papers.ssrn.com/sol3/papers.cfm?abstract_id=3133270
May 2017 Update: On 12 April 2017 there was again unanimous support by the University of Oregon Senate for our new proposed reporting policy that does NOT make most employees mandatory reporters but instead obligates them to provide information, support the students and follow the wishes of the survivor/student. (Here is more about the task force that proposed the policy.) On 23 May, the university president signed this policy effective 15 September 2017. We also hope this policy can serve as a model for other campuses and organizations -- one in which we shift the focus from required reporting to required supporting.
News Articles
National News
UO Campus Specific News
Video: Student-Directed Sexual Violence Reporting Policy Approved, 12 April 2017, University of Oregon Senate (16 mins) (also see Video of University of Oregon Senate, 18 May 2016 when mandatory reporting was rejected.)
Statements from Organizations Opposing Wide-Brush Mandatory Reporting Requirements
National & International Organizations
Campus Specific Organizations
Statements Supporting Wide-Brush Mandatory Reporting Requirements
Faculty Commentary
Trouble with Title IX. Mandatory reporting, Title IX profiteers and administrators, and academic governance by Sine Anahita, AAUP, May-June 2017.
Required Supporting Instead of Required Reporting: Responding Well to Disclosures of Campus Sexual Violence by Jennifer Freyd, Huffington Post Blog, 1 December 2016.
The Problem with "Required Reporting" Rules for Sexual Violence on Campus by Jennifer Freyd, Huffington Post Blog, 25 April 2016.
Ohio University faculty members want mandatory reporter rule reevaluated by Miriam Shadis and Patricia Stokes (and many signers), The Post, 22 October 2015
The Chilling Effect of Mandatory Reporting of Sexual Assault by Michele Moody-Adams, The Chronicle of Higher Education, 11 March 2015
Trust me…no never mind by Denice Labertew, California Coalition Against Sexual Assault Blog, 5 February 2015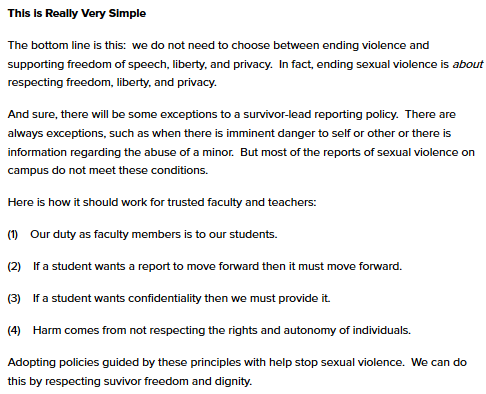 Section from commentary by Freyd, 2016

Student and Survivor Voices
Scholarly and Scientific Research
Some Universities with Policies that do NOT Require all Faculty to be Required Reporters
See Also