Compelled Disclosure -- The Problem with "Required Reporting" of Sexual Violence on College Campuses
A Compilation of Articles and Resources
Jennifer J. Freyd, PhD

Fellow 2018-19, Center for Advanced Study in the Behavioral Sciences, Stanford Univerity

and Professor of Psychology, University of Oregon

Introductory Statement

In the years between 2011 and the present time, many American universities rolled out policies compelling faculty report to college officials student disclosures of sexual violence. I became concerned about these compelled disclosure policies (often known as "mandatory reporting" or "required reporting" policies) from a research and policy perspective. I first published my concerns about compelled disclosure a 2016 commentary. In this 2016 commentary I identified serious problems with compelled disclosure and I offered the core of an alternative policy that subsequently informed the University of Oregon's reporting policy adopted in 2017. If you read just one thing about this topic, I hope it is this: The Problem with "Required Reporting" Rules for Sexual Violence on Campus by Jennifer Freyd, Huffington Post Blog, 25 April 2016.

: October 2018 Update: The American Psychologist has accepted for publication a commentary regarding our 2018 article and our response to that commentary. These two commentaries will be published together in a forthcoming issue of The American Psychologist:
Holland, K. J., Cortina, L. M., & Freyd, J. J. (in press). Advocating Alternatives to Mandatory Reporting of College Sexual Assault: Reply to Newins (2018). American Psychologist, in press.
April 2018 Update: The American Psychologist, the official peer-reviewed scholarly journal of the American Psychological Association, published in April 2018 our analysis of mandatory reporting policies.
Holland, K. J., Cortina, L. M., & Freyd, J. J. (2018). Compelled Disclosure of College Sexual Assault. American Psychologist. 73(3), 256-268. http://dx.doi.org/10.1037/amp0000186 ; Press Release ; Accepted version full text
May 2018 Update: Professor Merle Weiner from the University of Oregon School of Law has written an important legal analysis:
Merle H. Weiner, A Principled and Legal Approach to Title IX Reporting, 85 Tenn. L. Rev. 71 (2017). Available on Westlaw. The published version is also on SSRN: https://papers.ssrn.com/sol3/papers.cfm?abstract_id=3133270
May 2017 Update: On 12 April 2017 there was again unanimous support by the University of Oregon Senate for our new proposed reporting policy that does NOT make most employees mandatory reporters but instead obligates them to provide information, support the students and follow the wishes of the survivor/student. (Here is more about the task force that proposed the policy.) On 23 May, the university president signed this policy effective 15 September 2017. We also hope this policy can serve as a model for other campuses and organizations -- one in which we shift the focus from required reporting to required supporting.
News Articles
National News
UO Campus Specific News
Video: Student-Directed Sexual Violence Reporting Policy Approved, 12 April 2017, University of Oregon Senate (16 mins) (also see Video of University of Oregon Senate, 18 May 2016 when mandatory reporting was rejected.)
Statements from Organizations Opposing Wide-Brush Mandatory Reporting Requirements
National & International Organizations
Campus Specific Organizations
Statements Supporting Wide-Brush Mandatory Reporting Requirements
Faculty Commentary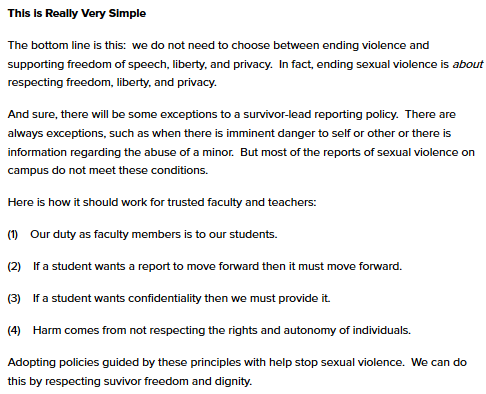 Section from commentary by Freyd, 2016

Student and Survivor Voices
Scholarly and Scientific Research
Some Universities with Policies that do NOT Require all Faculty to be Required Reporters
See Also